by Kären Johansson
Special thanks to Charr Smith and Erik Zaborsky for their previously published articles in the SCAN, the Santa Cruz Archaeological Society Newsletter, and to Charr for the outreach documents she provided at the Cabrillo College docent training in 2012. This information was indispensable in preparing this document. Unless otherwise noted, all photos are by C. Simpson-Smith.
Although public archaeology conceptually has different meanings for different practitioners, many archaeologists share a passion to connect people and the past in ways that help bridge cultural differences. Archaeology exists amidst collaboration and dialogue among members of diverse communities and reinforces the notion that our history is a collective one. Public archaeology defines the place where artifacts tell a story and listening to many voices in the present allows us to hear those stories. The presentation of archaeology to young learners collates a physical activity, educational fun in the field, and brings the meaning of history and the discovery of a relevant past into the hands of both students and educators.
Charr-Simpson Smith, retired archaeologist with Cabrillo College's Archaeological Tech Program, in conjunction with the Santa Cruz Archaeological Society, spearheads one such effort. In 2012, Simpson-Smith launched a public outreach program to engage third through fifth grade educators and their students in Santa Cruz County. This exciting introduction to locally significant, archaeological heritage enlivens California's history!
Docent Outreach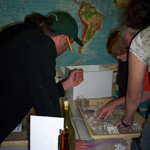 As a first step in the Outreach Project, in March 2012, Simpson-Smith invited local teachers, interested Society members, and anthropology students at Cabrillo College to attend a workshop entitled, "Outreach to the Classroom." Participants attending this workshop held on the Cabrillo College campus in Aptos, California worked in small groups, examined local prehistoric and historic artifacts, and discussed ways to bring archaeological activities into a classroom setting. Discussion topics included map-making, artifact sorting and measuring, artifact identification and sketching, and other activities that are part of the "History-Social Science Content Standards for California Public Schools Kindergarten Through Grade Twelve" that became a formal part of the 1998 California State Board of Education Act. Many of the workshop's participants had never seen or touched an artifact, and their excitement in observing objects that were part of previous life-ways was palpable and contagious!
School Outreach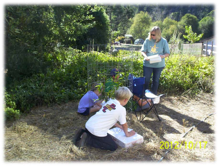 In October of 2012, Simpson-Smith, Erik Zaborsky from the Bureau of Land Management and SCAS' professional advisor, Dustin McKenzie, archaeologist and instructor from Cabrillo College, SCAS Treasurer, Cathy Phipps, and other volunteers went to Orchard Elementary School in Aptos to bring many of the workshop ideas into a school field. As if to illustrate the past's ubiquitous interaction with the present, it soon became known that the Orchard property itself is a historic site with a number of farm buildings and artifacts in and about the school campus. With this realization, Simpson-Smith and her team, Orchard School teacher, Rob Owen, and Principal Jody Johnson devised a field plan that engaged students and teachers in an introduction to field survey techniques, the collection of artifacts, and basic archaeological recordkeeping. In a rewarding conclusion, students gathered at the end of the day and presented their "findings" to the group: the lessons they learned, and the fun they had in their discoveries.
SCAS's Other Outreach Projects
In the summer of 2012, at the invit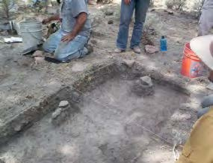 ation of Dr. Charlotte Sunseri, faculty archaeologist at San Jose State University, three Society members of the Outreach Committee, Lyn O'Niel, Judy Husted, and Patrice Berry joined Charr Simpson-Smith on a visit to Dr. Sunseri's field school, located at Mono Mills in the Eastern Sierra Nevada Mountains. Visiting an active field school that had a public component was an exciting way for committee members to enliven their participation. Trip highlights included working with Sunseri's student-team doing some digging, examining artifacts, and learning about some of the student's plans for work in anthropology and archaeology. Simpson-Smith's notes and photographs of this trip are included in the summer 2012 issue of the SCAN, the Santa Cruz Archaeological Society's newsletter.
For the Future
Public archaeology resides in a place where the study of culture and science exist side-by-side. It is imbued with principles of outreach and education. While it is a field anchored in the past, it continues to walk into the present, and to invite many voices to communicate the importance of connecting people in the present with a multi-vocal past, and of bringing a sense of stewardship into the hearts and minds of people living today.
When considered part of the discipline of archaeology, math and history cooperatively fulfill current, grade-appropriate educational standards. Archaeology in a grammar-school setting offers ways to interweave and complement these subjects. Hands-on interactions between students and artifacts provide ways for young learners to experience different educational avenues and explore how objects were used by people in the past. While archaeology is a study of the diversity of people living in the past, learning about difference points the way to an understanding and appreciation of similarity. Bringing archaeology and an appreciation of the preservation of endangered cultural heritage to educators and their young students is inspiring for all participants.
To continue supporting and implementing the outreach program, this blog will be a source of ongoing information about the SCAS Outreach Program. Additionally, the SCAS website will soon host online resources for educators and interested members of the public who would like to participate as research and / or classroom docents.
If you would like to be a part of this project, please contact Charr Simpson-Smith at.