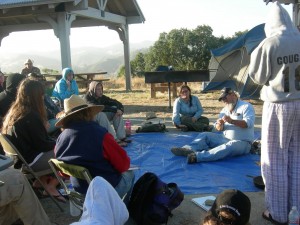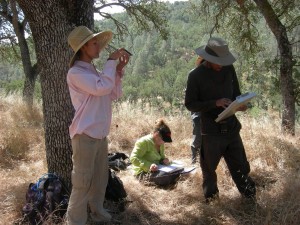 By Christina Spellman
The tasks today included calculating our individual paces and recording/mapping of two sites in San Clemente. First we leisurely walked along a one hundred meter measuring tape. By dividing one hundred meters by the number of steps taken over that distance, we could calculate how to use our stride/pace to map features and sites. A second essential skill required in recording a site is knowing how to use a compass. I learned not only how to record a site today, but also the potential of what a compass can do. In comparison to yesterday, being our first day at the field school, today was gorgeously temperate. Drinking water seemed to be not necessary, yet everyone packed and drank probably 4 liters, obviously a result of learning from the treacherous first day intensive excursion/learning.
After returning to camp, we listened to a wonderful flintknapping demo by Tim Gross. His awesome engagement was challenged by the chilling wind gnawing at our sun drenched limbs, but Tim prevailed, leaving us with lithic info and the curiosity to ask what defines "debitage," what signifies a chronology of tool use, etc. After two days, the field school is everything I expected and I'm sure much more. Half of the pleasure of the experience is discovering California on a different level than what I knew before and knowing new potential archaeologists.