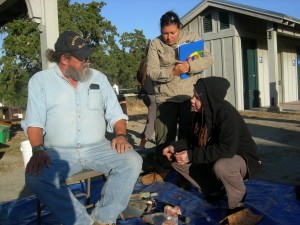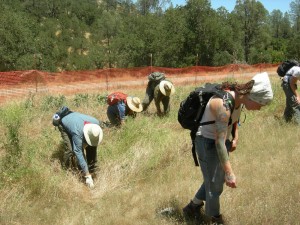 By Tiffany
The crew started out this morning at seven thirty a.m. We saw many deer, turkey, and grouse. We headed north to Project Area Two, where we divided into three separate groups. Our goal was to survey the area that had not yet been recorded into the archaeological record. Our group consisted of the following: Dusty McKenzie, Tess, Kelsey, Jenna, Ed, Lauren, John, Candice, and I. The area that we were surveying was at the north end of Project Area Two bordered by Orestimba Creek and Panther Gulch. We surveyed across from East to West in ten meter transects and then conducted a second adjacent sweep from West to East. Anchors had G.P.S. units but we used compasses to keep our bearings.The altitude at its highest point was just over fourteen hundred feet and riddled with quartz and chalcedony chips, which made for a lot of fake-outs. There were many limitations including vegetation, surface visibility, poison oak, downed trees, bees, slope, lack of visibility of other group members and mangled burnt-out trees. Our pickaxes came to many of our rescues throughout the day for keeping ourselves from falling. Our findings in this area were negative of any archaeological sites but due to the many obstacles that disrupted our transits this survey can not conclusively say that none exist.
After we concluded transects of this area we moved on to a smaller clearing just to the northeast outside our project area. Here we found two small chert flakes, two small bone fragments, one most likely a larger mammal and the second bird bone. Lower on the landscape in a rock outcrop Dusty found a bed rock mortar.
We then continued on back to the vans to meet up with the other groups to head back to base camp where we ate dinner and had a group discussion about the day and the articles that we had read over the week.