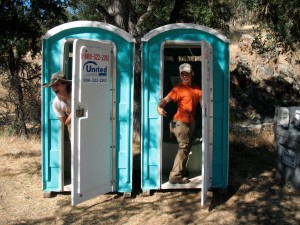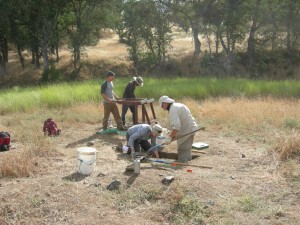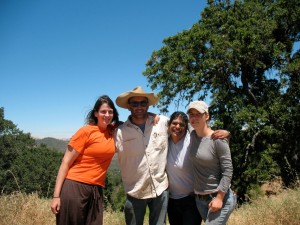 By Carrie Reichardt
Photos: Crew chiefs Carrie and Kaely (top), students Stephen, Matt, Melissa and Ed working hard on a hot summer day (middle), and crew chief Carrie, field school instructor Dusty, and crew chiefs Annamarie and Kaely (bottom).
I have to admit, I'm currently writing this entry within the comforts of air conditioning back in Sonoma County. I am, of course, thinking of all the students who are probably frantically trying to bust out the last few centimeters of their Shovel Test Units (STU) with pick-axes and cursing those pesky rocks that come between them and the coveted straight test unit side walls. This ice-cold iced tea is for you guys, cheers!
Our second week was great! Both Monday and Tuesday three crews covered major swaths of two project areas. As a side bar for those who have never experienced archaeological survey, don't let the idea of hiking in a state park for work fool you. It's entirely off-trail hiking directly up mountains, fighting the charcoaled remains of tree victims of last year's wildfire and the nasty vegetation that takes root in disturbed areas – namely, poison oak. Many a rattlesnake made an appearance, many a rash showed up on body parts, but the students persevered with enthusiasm and hard work! On Wednesday, one group continued to survey (I was among them) and the remaining groups started opening up their first STUs! We were lucky to have Frank, our Amah Mutsun monitor, who shared his great stories with the crew while they fought the hard battle against uncooperative rocky soil in the heat.
Some teams had fierce artifact mojo and found lithics in their units, including a couple of obsidian flakes! Many others had units which had very few artifacts. Such is archaeology. The days, weeks, and months of finding nothing make the days where you find that one tiny piece of something so much more exciting. And, as a historical archaeologist, I have to mention a small glass fragment scatter we found while surveying. A beautiful piece of a deep aqua soda water bottle base found in a rodent burrow back dirt pile was my personal favorite.
Steering away from the archaeology for a moment, I must take this opportunity to give a shout-out to all the hard-working students. It was an amazing experience for me, as a Crew Chief, to watch these students blossom in a mere two weeks. The first few days of the first week was spent learning how to use a compass, reading a topographic map, and mapping a site. Many of the students might have only had a vague knowledge of how to figure out where north is, but now they know what all those lines and arrows and do-dads on their compasses mean!
Field school can be an incredibly intimidating experience. Even as someone who has been doing archaeology in one form or another for a few years, even the most seasoned professional has their days of self-doubt, but the students plowed through and have grown exponentially in only a matter of ten days. I look forward to hearing about how much more they develop in the next three weeks. I can see each and every one of them continuing in the profession and making Dusty, Annamarie, Kaely and me so very proud! Their enthusiasm for getting dirty and working hard was infectious and they maintained a sense of humor and respect for one another even when we were faced with 50-degree slopes covered in poison oak and heat exhaustion. Archaeology is a profession that cannot happen without team work and every single one of the students worked together and did so with great admiration for one another. For any family members out there reading about their loved ones who are participating in the 2010 Cabrillo College Field School, you should be so proud of them! We certainly are!