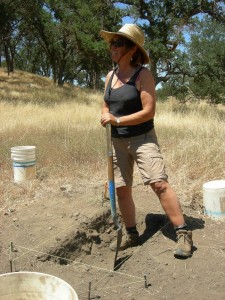 By Dawn Johnson
Photo: Student Dawn Johnson taking a break after working hard in a STU.
It's amazing how much you can accomplish when you only sleep four hours a night. It's not easy getting packed and into a waiting van in Aptos by 6:00 a.m. on Monday morning when you're still swimming in Tahoe at 6:00 p.m. on Sunday night. But not only was I able to have a very productive day excavating at our site, but my terrific team mates also had a great day (actually, they did all the work, but they certainly made me look good!).
In our first shovelful of dirt, Lauren found an obsidian flake. This is pretty amazing, when you consider that this soil came from 80 cm below the surface. This is the fourth flake to come out of our fruitful little 1 m x 0.5 m shovel test unit (STU). Last week team members, Brittney, Angel, and Kolin found their first shiny, black obsidian chips in this STU. A few minutes later, Stephen held up a beautiful talon or claw. In my highly uneducated opinion, I believe it could be a coyote claw, but a trip to the Santa Cruz Natural Science Museum next Saturday may shed more light on the subject.
While the temperatures were pretty toasty today, everyone in the field school seems to be loving the work, and morale is fantastic. You couldn't ask for a better group of soon-to-be-highly-skilled archaeologists. And the dinners would put Alice Waters to shame.