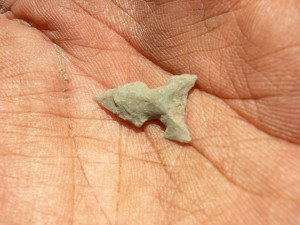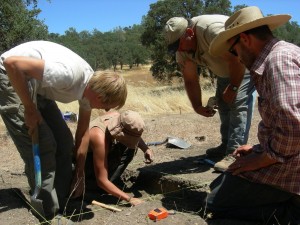 By Kolin Taylor
Photos: Kolin examining a potential artifact from his control unit (top), a desert side-notched point (center) and students Kolin and Candace excavate as Daniel (Amah Mutsun monitor) and Dusty observe (bottom).
Today started like every other day out here…woke up, grabbed some breakfast, and readied the pack for the day. We made it to the site around 8:30am, just as I finished my cup of Yerba Mate. I was especially excited to begin the first of the control units because our shovel test units (STUs), 1 x 0.5 meter holes, had been so successful; I wondered what the bigger 1 by 1 meter units would turn up. My group (Angel, Candice, Ed and myself) was assigned to a unit four meters west of the highest producing STU, in really rich midden soil. In fact, as we began laying out our unit, there was a fine chert flake on the surface. We also seemed to measure and back stake our unit to a perfect 1 x 1 meter square smoother and faster than any other unit I've measured out.
As soon as our Native American monitors were on site we began our first 10 cm level, I was on the 1/8 inch screens. It was a little different at the control units compared to the STUs as far as screening goes because the goal is not to pick out all the artifacts/ecofacts you see but to break it down; remove all the definitively non-cultural material; and bag and tag what's left in the screen. I had probably sifted 5 or 6 screens when I thought I saw a distinctive shape of a notch so I quickly slowed way down and picked through my screen carefully and sure enough there in my screen was a small desert side notch point. It was great to finally have some sort of indicator for the site's age; its size and shape are typically associated with late period sites and probably indicate bow and arrow technology. After lunch it was my turn in the hole digging the 10 – 20 cm level. It wasn't long before I was seeing faunal bone, flakes, and charcoal which was pretty consistent with what I was seeing in the screens from the first level. Before I knew it Angel turned up another projectile point in her screen, I couldn't believe it.
Well it's now 9:30pm and I am way tired from a great day of digging so I am going to wrap this up. We also found some sort of small mammal scapula, a really cool deer antler, and some possible perforated shell in our 10-20cm level. Other groups found mostly flakes, and one group found a really nice obsidian blade as well as a really cool ¼ of a disc-shaped rock with a hole drilled through it, which was very puzzling as to what it could have been for. Well I'm off to bed so I'm rested and ready to bust out some more levels tomorrow, although we would have to find some pretty crazy stuff to top today's finds.