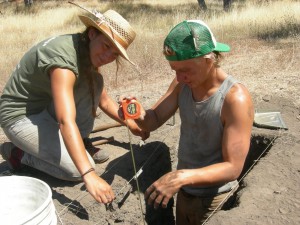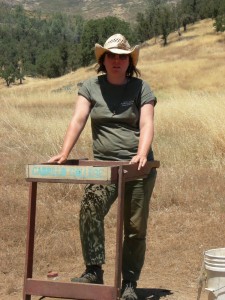 By Lauren Wysham
Photos: Crew members Brittany and Stephen carefully measuring elevations (top) and student Lauren Wysham at a screen (bottom)
I've always known that I wanted to be an archaeologist, but until this experience I never really knew how much. It's always exciting to learn about new things in the classroom that fascinate you, but to touch and feel it, it really brings it all home. On that note, let me tell you about one day in the life of a budding, hopefully, wannabe archaeologist. I woke up at an ungodly hour to the owlish stares of my comrades. We did our usual morning routine of breakfast and packing up before heading out to our super awesome beautiful site. It is so helpful to be conscious of the environment that people may have lived in, though different, it helps to be there. We started on our shovel test unit (STU) at 60N/40E that we were working on the day before. The crew that I was working with today was a group that knows a lot about what we were doing; their individual knowledge created a whole that made a beautiful unity of minds, that helped us create something together that we could be proud of.
Though we didn't find much more than some flakes of chert, and other materials as well as charcoal, we made the most of it and though it wasn't as exciting as other units, we did our best. I heard the excitement in the voices of the other groups during our lunch break about what they were finding, and although our unit wasn't as prolific, I understood their feelings. Learning to recognize cultural material amongst all the other detritus is a skill that I feel I am learning so much more about in just the few weeks that we have been here. I feel so much closer to becoming what I want to be, and I am learning from the experience as well as my peers and instructors. One of the best parts was when I heard about the bifaces and partial points, and interesting shell beads and objects that everyone else was finding. It didn't hurt that they had to relocate a baby rattlesnake from under an oak tree, while our unit was so safe and peaceful on the periphery.
The culmination of our day was when we finished up our STU and measured out our new 1X1 control unit. It isn't as easy as it sounds to dig a square hole, and even harder to measure it out in dirt that doesn't follow your instructions. But we did it a little quicker than before and I feel that with time we'll all become pros. I am so excited to learn even more, and hopefully be an even bigger part of contributing to the archaeological record.