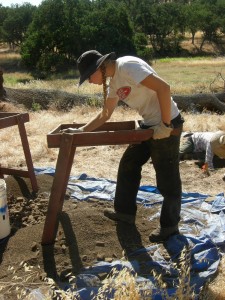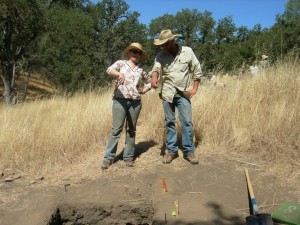 By Lindsay Kiel
Photos: Student field tech Lindsay screening for artifacts (top) and crew chief Erin and Dusty conferring (bottom).
Being the day after the Fourth of July, we didn't pull out of the Cabrillo parking lot until around 8:30, which was nice. It was definitely a nice change to get to sleep in for a couple of extra hours, and because Jenna, Brittney, and Stephen stayed the weekend at the camp site, we didn't have to take down our tents on Friday and therefore didn't have to spend the time this morning to set them up again. So basically, we didn't end up losing much time in the field, even though we got to camp late. We had our customary Casa de Fruta stop where we met up with Erin—one of our new Crew Chiefs—and Dusty's dad. Pulling into camp was amazing. Our line of four vans and three cars pulled in and immediately we saw Dusty's tent sitting on the roof that covers the picnic tables. At some point over the weekend Stephen had that genius idea and he pulled it off perfectly, though apparently they were all terrified that a ranger would show up and force them to remove the tent before the rest of us showed up to see it. At least Dusty appreciated the joke.
We got out to the site around noon and split off into our new groups. Some of us got to stay at the units that we were working in on Thursday, which was nice because some of us were really attached to our units (especially Kolin who was very upset at the end of last week when he found out that he probably wouldn't be back at his unit). For being a half day it was a super productive day. Almost all of the groups completed three levels and group six completed the final STU (Shovel Test Unit), going down to 140 cm. Our group found some pretty cool stuff. We found 5 pieces of obsidian, 1 Olivella shell bead, 1 claw of some sort, 2 faunal vertebrae, and a faunal mandible that had a canine and four other teeth still attached. Dusty says we're going to take our unit down to 150 cm. and I'm excited for it to be so deep. This will be a great week.