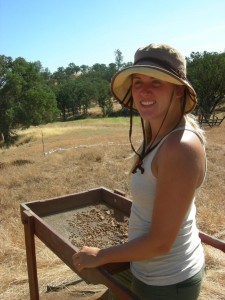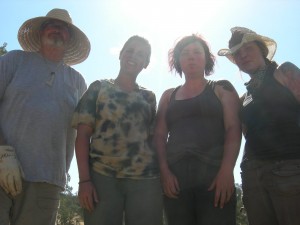 By Candace Skinner
Photos: Student field tech Candace screening for artifacts (bottom) and excavation crew (from left to right) Ed, Candace, Lauren and Tiffany (bottom).
Today was our last day of excavating in the field. I've never had such a great experience with such a large amount of people. Everyone at this field school has such a great attitude and support for one another; it has really shaped the whole experience into something unforgettable. Every crew I've been on thus far has been extremely helpful, willing, and open minded to all criticism, advice, and guidance from Dusty, our crew chiefs, and our peers. It has really made for a productive and positive learning environment. At the end of the day we all went around and expressed our feelings and thoughts about our experience so far in field school. Overall, many of us expressed our gratitude and appreciation to Dusty for putting together such a great field school, and to the Native American monitors for giving us such a great experience and positive understanding of the importance of their culture in our research.
A few of us started our column samples today. I was the first to begin ours, and the last to finish it. It seemed easy, but just as we figured out in doing our first shovel test units, digging a square hole is much more difficult than I thought. Bioturbation, tree roots, and rocks made it very difficult to remove such a small amount of dirt without "bathtubbing" our unit or collapsing our sidewalls. Our column samples are going to be sent off to specialists who use the process of flotation to separate rocks from botanical remains, bones, etc. They will then analyze the "light fraction" of the sample to help Dusty answer his research questions about subsistence patterns. I know this process takes awhile, but I'm extremely interested in and eager to better understand the site that we spent three weeks working on!
A few of the other units were still trying to find basement in their control units. Unit 3 went down 180 centimeters and still ran across a few obsidian flakes and artifacts without much soil change. Since this was one of the deepest deposits we had run across, we had to wonder if the midden soil deposit had actually gone down that far, or if it was a result of many years of geologic activity and bioturbation. Dusty made the decision to discontinue the unit and begin sidewall profiling/ column sampling based on a relative comparison to the other units and their productivity. We finished the day with two units profiled, column sampled, and backfilled. The other units were either terminated or were finishing up their final levels of excavation or column sampling.
Tomorrow is our last day at site to finish up our research. I feel like we have finished with good timing, without stress or rushing. All the crews have worked really hard to get this point. I'm really impressed by everyone's work ethic and ambition to learn more about archaeology and its importance in every aspect. I'm really excited about starting lab next Monday. I've never stepped foot in an archaeological lab, but I'm eager to start seeing some clarification in artifacts and to start making some interpretations.