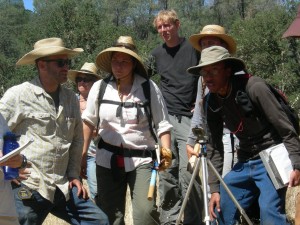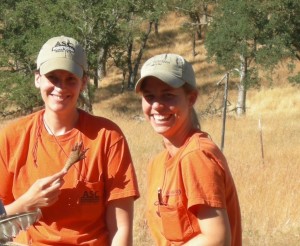 By Kaely Romney, Crew Chief
Photos: Dusty teaching students how to use a Brunton compass (top) and crew chiefs Carrie and Kaely (bottom)
We made it through the first week, and in my opinion, the hardest week. The first moments of learning anything new can be frustrating, confusing, and never-ending. The students were challenged in so many different ways. First, they are thrown into a new environment with 23 other people who they must make relationships with. They memorized how to pace distances, and mastered the "Go-go gadget" compass that includes a compass, a protractor, and a clinometer, and learned how to use both to accurately map a site. After much trial and error, the crew then hiked up a butt-kicker of a trail to get back to camp. This was all in Day 1.
This week was really a great opportunity for anybody to ask as many questions as possible. Some examples include questions about flake characteristics, map symbols and environmental descriptions. I was blown away by the communication, preparation and energy that I saw on our first survey day. Even though we did not find any new sites, we used this opportunity to discuss the animals, plants and geology in the area. My survey crew was then drawn into a great conversation about how the environment can influence the archaeology you see on the ground and the theory you are defending. We saw spiders that balanced on top of the tall grasses, the birds that nested beneath, and skin evidence that the snakes left us behind. We explored the chert eroded drainages and quartz scattered flat. An important lesson for any archaeologist is that even if there are negative findings on the ground, many different observations can be brought home from a day of survey.
Friday morning, our fearless leader left the crew and crew chiefs to record a newly found site. The site was a simple lithic scatter including one obsidian flake, located by crewmember Dawn. The crew split up and surveyed the entire area, and mapped and recorded the entire site in two hours flat. This really demonstrated the skills built by every individual. Overall, this week really tested the student's limits, and it seems that many if not all showed up Monday morning for some more.