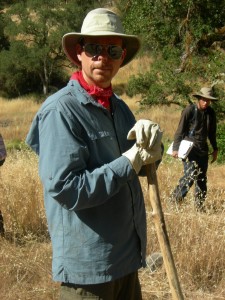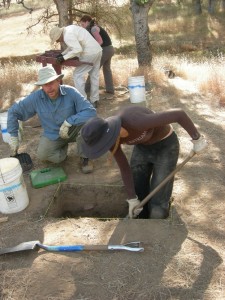 By John Schlagheck
Photos: John Schlagheck (top and bottom)
Dateline-Diablo Mountains, CA. John Schlagheck reporting — It is not usual work for me and my fellow team members (Emily, Mark, Matt, and Christina) — the measurements are different, the tools can be inappropriate for the tasks at hand, and the heat can be surprisingly oppressive. It's true, cooking for 26 people in camp is quite an undertaking — but we loved it. Curry night. Dusty set us up for it and got everyone pumped and excited for the dinner. Despite the potential difficulty and dane-ja of cooking curry in the field, the five of us were up for the challenge and wanted to show these people what eating was all about. Only two of us had been in military service so it was a bit risky, but ultimately the night was a complete success. Most all were satisfied, though it was a bit spicy for one or two folks and even for one of the chefs, but no causalities.
During the day we started our first shovel test units (STUs). While some were occupied with that task, others finished the survey portion of the project on the ridge just north of the excavation area. Reviews of the day included reports of rattlesnakes near the STUs and a modest overlap of the survey transect from the previous day — but all was well in the end. The survey terrain is brutal in spots and rather strenuous on foot. Frequently, folks had to abandon their precise lines to avoid poison oak, large fallen trees and dense prickers.
Spirits are high in our camp. Having been to field school in 2009 with SJSU (that also went well), I can say that our Cabrillo group is working well together and has the kind of attitude that will foster great memories for everyone. Privately, people speak of enjoying the break from the hustle and bustle, the daily grind of our everyday lives, and normalcy.
Dustin has real world expectation of us and we appreciate his mentorship and attention to detail — this is not a vacation by any means. None of us wants to be surprised by what it really means to do archaeology for a living. That said, the atmosphere is loose and friendly, which is good, because we have another three weeks of communal living and working in close quarters. I am always surprised by the compromises and concessions required by these situations, but always feel rewarded by having made them. It seems to me that people are always better to each other when tested by their surrounding and have to overcome themselves in a way — which is a good thing.