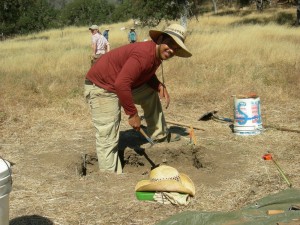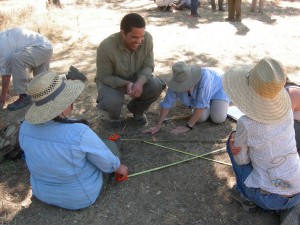 By David Poole
Photos: David Poole excavating a shovel test pit unit (top) and students working together to learn how to lay out a unit (bottom).
Today I just witnessed a perfect sunset to end another great day in the field. I'm sitting here right now, the fire is blazing, the ukulele is playing, my stomach is full and the mood is just right. I have to admit, today was amazing; day two of getting grimy in the dirt. We worked hard all day. Pick axes swinging, shovels shoveling, and trowels scraping. We worked together in crews of four, once again excavating our shovel test units (STUs). Though not all of us were finding artifacts, the team environment and work ethic allowed us to push through with smiles on our faces. It's easy to want to give up when pushing through layer after layer of rock, but knowing that each unit helps in creating an overall understanding of the bigger picture, one begins to realize that producing no artifacts yields an incredible amount of information about the peoples that lived here. It's really all about telling a story for those who cannot speak for themselves and knowing about where they were, as well as where they weren't, allows us a chance to do this. The skills that we are learning at this field school are more than just simply teaching us how to use a compass, walk transects, create 1 m x .5 m STU units, or 1 m x 1 m control units; it's allowing us to use the skills acquired to respectfully and as accurately as possible speak for those who now cannot.
Archaeology is amazing and I'm truly glad that I chose this as my future profession. I honestly have to say that I love it out here! I love the work, I love the environment, but most of all I love the people. I know for a fact that the relationships that I'm creating out here are going to last for many years to come.