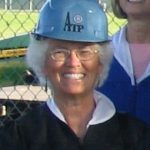 Charr Simpson-Smith will receive "The Golden Shovel Award" at the 2019 Annual Meeting of the Society for California Archaeology. The Golden Shovel Award is a special presidential commendation given to longstanding members of the Society who have made significant contributions to California Archaeology through continued efforts in the field and/or laboratory.
Charr has helped to shape the lives of hundreds of student archaeologists through her years of work with the Cabrillo College archaeological programs. Her extensive knowledge of cultural resource management; archaeological method and theory; detailed, complete and thoughtful field notes;  were  instrumental in shaping the minds, and the lab and field techniques of all who have worked with her. She pioneered the use of GIS in California archaeology; provided essential leadership to the Santa Cruz Archaeological Society; did educational outreach with schools, children and teachers; and conducted key oral histories relating to California's past.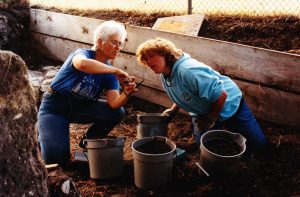 Charr was majoring in Early Childhood Education in 1979, when her advisor, Julie Olsen Edwards, recommended she take an Archaeology course from Rob Edwards. Fascinated, she left Early Childhood Ed. and declared an Anthropology Major. Charr received her AA from Cabrillo College and her BA from UCSC. Her first field course was at the Lost Adobe of Santa Cruz, in 1981. She became well known for her field notes and her desire to excavate only by trowel. Assigned to excavate a datum control unit north of the area of the suspected adobe, she was told by Edwards to plant her trowel in the ground and to use a large pickaxe, a lesson ("use the largest tool you can control") that has stayed with her throughout the years. From 1981, Charr was a student, a crew chief, a site recorder, a lab supervisor, a field excavation supervisor, and an integral part of the 1980's archaeological program at Cabrillo College.
In the late 1980s, Charr helped Edwards develop the widely praised vocational Cabrillo College Archaeological Technology Program (CCATP). She served on the faculty of the "Arche Tech" program from 1990 to 2008, and was its Director during Rob Edwards' sabbaticals.  Although widely used now, GIS as a tool for archaeologists was not commonly employed in the 1980s. Charr pioneered its archaeological applications and taught GIS at Cabrillo, and under a special grant, to a local consulting firm during the 1990s. GIS became an important tool used by California cultural resource practitioners.
Charr served as president of the Santa Cruz Archaeological Society (SCAS) in 1981 and 1982. Her leadership included signing the legal suit against the city of Scotts Valley that stopped the bulldozing of an important archaeological site, and set up a  salvage excavation.  During that time, Charr, along with SCAS members, Kate Harper, Janice Singer, Charlene Duvall, and Professional Advisor Diane Gifford-Gonzalez, coordinated one of the most massive archaeological volunteer efforts of that era. Over 150 archaeologists per day, for four days, gave their time to save whatever possible after a 7000 to 9000 year-old site was bulldozed for a parking lot. It was a massive organizational task requiring extensive coordination. Largely because of Charr's efforts, the SCAS received the Helen C. Smith Award from the SCA in 1995, for individual or societal avocational achievement.
For several years after her retirement from Cabrillo College in 2008, Charr volunteered at the Northwest Information Center, using her GIS and archival skills. Throughout her career, she was also dedicated to public outreach and education. In 2012, Charr launched a public outreach program to engage third through fifth grade teachers and their students in Santa Cruz County. The program introduced local archaeological resources that enlivened and deepened the California history curriculum, with careful emphasis on the full humanity of Native Peoples of the area.
Charr is also an accomplished oral historian. She conducted a complex and rich oral history of Aki Hane, a Japanese American elder who returned to Watsonville after WWII, and who had lived in the "Carriage Barn" of the Redman Hirahara farmstead that Charr had documented. Another significant oral history was done with Ruby Tefertiller, who grew up on Santa Cruz's "Mission Hill", on the property where the "Lost Adobe" excavations took place from 1981 to 1984. Based on Charr's remarkably detailed notes from the 1980s, this oral history was written up in 2018.
For over forty years, Charr has been a respected teacher, mentor, field worker, pioneer, organizer and inspiration within the archaeological communities of California. Charr was nominated for the award by Eric Zaborsky. This much deserved award will be presented by Annamarie Leon Guerrero. Both Eric and Annamarie were among the many students touched by Charr.