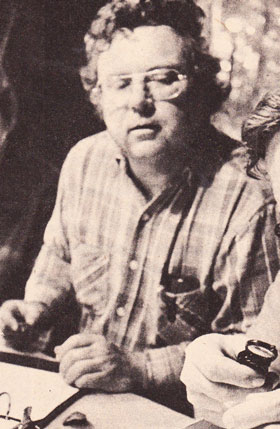 Howard Bickford was a Cabrillo College student beginning in 1972. Howard had been a draftsman in the airplane industry. During a recession in the industry, he came to Santa Cruz. He had an artist brother who lived in the area and had build a house at Ano Nuevo, which is now a ranger's house and part of the Reserve.
Howard took a number of classes in Anthropology at Cabrillo College. In the summer of 1972, he was a member of the Field School at SCR-20, the Bonny Doon site. He became an early active member of the Santa Cruz Archaeological Society.
After Cabrillo, he left to continue an academic path towards a BA at UC Riverside. He was about 6 units shy of his BA at UC Riverside when the opportunity to regain his job in the airplane construction industry was offered and he took it. He later retired and volunteered in several areas including archaeology, and especially as a foster grandfather and became a skilled maker of children's toys until his death in 1996.
Howard sent $1,000 to the Santa Cruz Archaeological Society for 1) the maintenance of the Bonny Doon site [Ca-SCR-20 which had been donated by the Allan Brown family] or 2) for scholarships. Cabrillo College was able to find other monies for site maintenance. Several years later, the Archaeological Society added another $1,500 to the original sum and established a scholarship fund in his name within the Cabrillo Foundation. These funds have been used for scholarships and been occasionally supplemented for additional scholarships by additional SCAS and private donors.