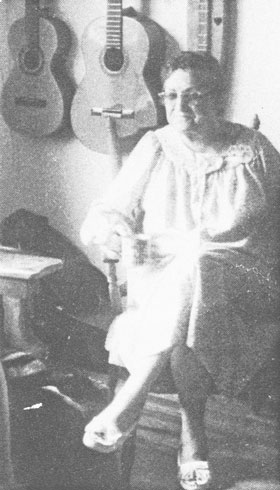 Ruth Lolete Waters was born February 8, 1906 in Oklahoma, the third of seven children of Tallesca Garrison Waters and Alonzo Waters. Her father died when she was just a child. Her mother raised the family on their farm during the dust bowl years and managed to send all her sons through college and all her daughters at least through high school. Ruth went on for a year of college, sufficient education in the 1920s to permit her to become a teacher, and later a principal, in several small rural schools in Oklahoma and Texas.
She married and raised two sons. The family moved from state to state following the possibility of work – farming, picking crops, shipyards – wherever one could earn enough to keep a family together. In a time of racism and bigotry, she believed people had an inherent right to dignity, and should have equal access to work and housing. She believed the only thing to hold against a person was staying ignorant when education was available. She was convinced that education is the key to a better life and a better world.
Ruth first moved to California to work in the defense industry of World War II. She settled in the San Francisco area in 1959. She led an active and independent life as well as being an important support to her sons' families. Her eldest son Don and his wife Ann now live and run a business in Milpitas. She moved to Santa Cruz County in 1974, and made Soquel her home.
Ruth considered Cabrillo College a special place. She attended functions here for years. She was a student at Cabrillo Stroke Center. She became an adopted Gramma to young Cabrillo students far from their own families. She was immensely proud of her younger son Rob Edwards and daughter-inlaw Julie Olsen Edwards being college instructors on the campus. It was a joy to her when her grandchildren attended Cabrillo.
Ruth believed in education. She also was an avid reader. At the age of 79 she suffered a stroke which impaired her vision. When she could no longer read and cancelled her book club membership, the family knew the end was near for her.
Ruth Edwards died on September 9, 1984. The Ruth Edwards Memorial Scholarship has been established in her memory by her family, her friends, and her "adopted kids" as the best and most appropriate way to keep her memory alive. We sincerely hope that it will enable you to continue your education.