By Kären Johansson
Archaeology Demonstration – Life at the Santa Cruz Mission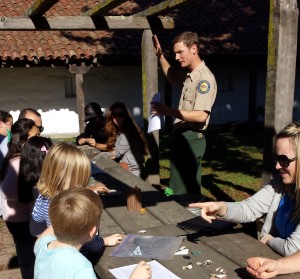 SCAS has been working with the Santa Cruz Mission State Historic Park to deliver a hands-on archaeology program designed for kids and adults on a drop-in basis.  This program highlights the long-term relationship between this historic site and SCAS and underscores the importance of collaborative work in honoring the complexities of the past.
If you have ever wondered how history and archaeology are connected; what happens when archaeologists bring artifacts back to the lab; or what clues about the past artifacts can reveal, come have fun and put your hands on the past with us!
The Cabrillo College Farmer's Market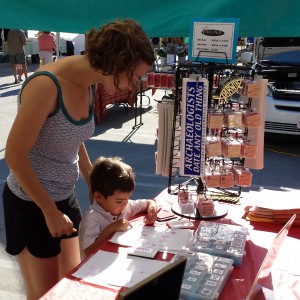 At our last market, we were excited that many of those who came to visit our booth wanted to tell us their stories; their particular past, and how archaeology has touched their lives in one way or another.  We invite you on our next round (date to be announced) to visit our artifact display and browse our merchandise table for gifts for the archaeologically-minded person in your life. We'd love to hear your brush with archaeology, your close encounters with the past, and your particular story.
Whether you're just dropping in at one of our events, or you want to join our team, we'd love to hear from you at .  Please check our online calendar for all upcoming SCAS activities.