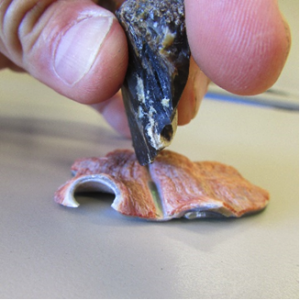 Dustin McKenzie, M.A., of Cabrillo College will provide a talk at the SCAS General Meeting in November.
Native Californians have been eating and using abalone for over 10,000 years. Recent excavations at Mission Santa Clara have recovered evidence indicating that abalone retained cultural importance during this tumultuous period. The analysis of abalone artifacts recovered from the Native Village at Mission Santa Clara indicate that ornament manufacturing was being performed within the Mission setting thus providing evidence of continuity of native lifeways into the Spanish Colonial Period. The experimental replication of abalone ornaments and microscopic analysis show that the majority of abalone artifacts were manufactured using stone tools included sandstone abraders and flake stone cutting implements similar to those used in coastal California during pre-contact periods. These data sets are used to discuss daily practices, economic landscapes, and the negotiation of native cultural identity during the period of colonization.
Dusty McKenzie has been involved in archaeology for over twenty years. During this time he has conducted archaeological investigations in California and the Great Basin, Mexico, Germany, and Australia. His research interests have focused on hunter-gatherer maritime adaptations, experimental methodologies, and the cultural impacts of technology change. Dusty currently teaches archaeology and cultural anthropology at Cabrillo College and frequently conducts public outreach in local schools and agencies. He also loves long walks on the beach, rainbows, kittens, and white-wine spritzers!