Andrew Woodhead gave a talk entitled, "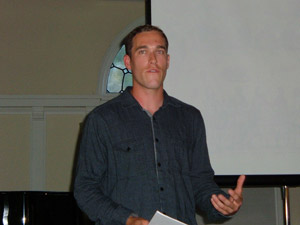 Consuming Identity: The Role of the Feast in Iron Age Britain." The Iron Age in prehistoric Britain witnessed the major restructuring of people's ways of life. Understanding the changing social, political, and economic discourses of this period requires an understanding of an important social institution: the feast. This talk will explore the numerous roles feasts can play and highlights the importance of feasting for understanding certain aspects of society.
Andrew Woodhead grew up in Santa Cruz, attended Santa Cruz High School, and received a BA in anthropology/archaeology from the University of California, San Diego. He then studied in Scotland and received a Master's degree in European Archaeology from the University of Edinburgh. His research interests have largely focused on prehistoric Britain and Ireland and the archaeology of foodways.