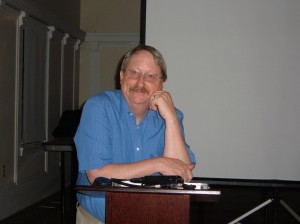 "Impact Of California's Climate: A 10,000 Year Perspective," by Dr. John Pryor. As California's drought deepens and there is much talk in the news about global warming, many folk's minds have turned to California's climate. Archeologists lend an interesting perspective to these current issues. Dr. Pryor's extensive archeological work in California has led to a rich data base of 10,000 years of climate history for the state. With this data base we can ask the question, is California in a drought today or are we actually closer to the prehistoric rain fall average? What can we predict the effects of global warming to be? He will lay out this climatic data and discuss these questions. Who says we can't learn from the past?
John is an Archeologist in the Anthropology Department at CSU-Fresno, and is currently the department chair. His area of expertise is California Archeology. He has over 40 years of field experience, mostly working in California, but also has done a bit of archeology in England, and in the Eastern US. He received his Ph.D. from the State University of New York at Binghamton. Over the last ten years most of the archeology he has been involved in has been working with and for Native California Peoples. This work has been with Table Mountain, Santa Rosa, and Picayune Rancherias, as well as the Choinumni, and the Southern Sierra Miwok.
His connection with the Santa Cruz area goes back to his undergraduate education at UCSC. He received his BA in 1979 and worked closely with Rob Edwards, John Fritz, Meg Conkey and Diane Gifford-Gonzalez.