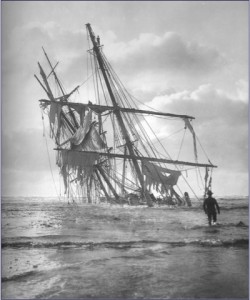 Join SCAS on June 16 for "On Land and Sea: Ships and Shipwrecks of San Francisco Bay," a talk by Bay Area archaeologist James Allan. The talk will be held at 7:30 pm in the Meeting Room at the Scotts Valley Library (251 Kings Village Rd, Scotts Valley, CA 95066; click here for Google Maps), 

Dr. Allan will talk about the ships and shipwrecks of San Francisco Bay, a subject that covers the connections between the early growth of San Francisco and today's modern development projects, which frequently reveal the fact that our early history is still encapsulated beneath our feet. Archaeologists today continually encounter, expose, recover, preserve, and interpret the remnants of those who came before us, from the earliest visitors to our area some 8,000 years ago, through the 19th century, and in so doing reveal information about the culture and people who helped shape the local environment, if not the world, we live in today.
James M. Allan, Ph.D., RPA, is President of WSA, an archaeological consulting firm with offices in CA, AZ, UT, and TX. He has more than 28 years experience in cultural resource management, involving historic, maritime, and prehistoric archaeology investigations.  He received his Ph.D. in Anthropology at the University of California, Berkeley. Dr. Allan is a member of the Register of Professional Archeologists and has worked in California archaeology since 1989. He has served as Principal Investigator on numerous projects throughout California, including the on-going Transbay Transit Center Project, the Muni Metro Turnback Project, a $275M transit extension in downtown San Francisco that involved archaeological monitoring of heavy construction for 24 months, and included excavation of a portion of the historic ship Rome from the project alignment, as well as the Mid-Embarcadero-East Line Extension Project. He is the Principal Investigator for the SFPUC's Bay Division Pipeline Project in Alameda, Santa Clara, and San Mateo counties, and the Los Vaqueros Reservoir Project in Alameda County. Dr. Allan has also served as Principal Investigator for the 300 Spear Street Project, in which the early 19th century whaling ship Candace was excavated and recovered in downtown San Francisco; the 201 Folsom Street Project in which the remains of a mid-19th century neighborhood were excavated and documented, the Moffett Towers project, in which 27 burials were recovered from a significant prehistoric village site in Northern California, the I-80-680-SR-2 Interchange, the remote sensing and underwater resource evaluation of the Oakland-San Francisco Bay Bridge, Carquinez Bridge, Benicia Bridge and Richmond-San Rafael Bridge seismic retrofit projects for Caltrans and has conducted remote sensing archaeological investigations in San Francisco Bay on behalf of the U.S. Army Corps of Engineers.  He has supervised record searches, survey and reporting on more than 200 projects in the Bay Area and California. Dr. Allan is a member of the National Park Service Advisory Board's National Historic Landmarks Committee, a Fellow of The Explorer's Club, an Adjunct Professor in the  History Department of the University of Rhode Island, a former Adjunct Professor in the Department of Anthropology of Saint Mary's College, and is the founder and Executive Director of the Institute for Western Maritime Archaeology.