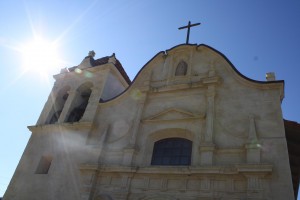 Join SCAS on Thursday, December 10, at 7:30 pm for a talk by Jennifer Lucido, titled "A Bastion Too Far: The Development and Underdevelopment of the Royal Presidio of Monterey, 1770–1840."
***** PLEASE NOTE DIFFERENT LOCATION FOR THIS MEETING *****
The location for the SCAS Meeting is
the New Scotts Valley Library at
251 Kings Village Rd, Scotts Valley, California 95066.
Monterey was the first European capital of Alta California, and the Spanish Royal Presidio of Monterey (a.k.a. El Real Presidio de San Carlos de Monte Rey), is one of the most historic sites in California. Despite its significance, the history and archaeology of the Presidio of Monterey has largely been forgotten and overshadowed by other 18th and 19th century California Spanish colonial mission and presidio sites. Analysis of the archaeological and historical records of the Presidio indicate an "underdevelopment" of the main quadrangle and defensive walls during the Spanish, Mexican, and early American periods. In contrast to this architectural underdevelopment of the site, analysis of census and mission records demonstrate the development of new cultural and ethnic identities. The soldiers and settlers of the Presidio experienced changes to their ascribed identities under the sistema de castas through processes of ethnogenesis, and transitioned to gente de razón, a more unified identity. Both archaeological and historical data present telling indicators for the changing nature of the Presidio's physical and cultural landscapes during the colonial periods.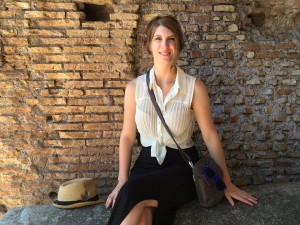 Jennifer A. Lucido, M.A., is a graduate of the Cultural Resources Management Program at Sonoma State University. Her master's thesis reviewed the documentary and archaeological records of the Royal Presidio of San Carlos de Monterey. In her thesis, Lucido demonstrated that the colonial landscape of the Presidio of Monterey was formed through a diverse array of physical and cultural processes during the late 18th and early 19th centuries. She has published a number of academic papers on the Presidio, and is second author in a recent paper with Dr. Ruben G. Mendoza dealing with Spanish cultural origins of mission architecture in California. Jennifer's scholarly contributions in "furthering the preservation and protection of the California Missions" were acknowledged by the California Mission Curators and Directors Conference with the granting of the Father Fermín Francisco de Lasuén Award for 2014. Presently, Jennifer serves as an adjunct instructor in Social and Behavioral Sciences at California State University, Monterey Bay.