Join SCAS for "CA-YOL-249: Initial Findings from an Early Middle Period Cemetery Site in the Sacramento Valley," a talk by Juliana Quist, Archeo-Tec. The talk will be held on October 11, 2018, at 7:30 pm at the Santa Cruz Live Oak Grange Hall at 1900 17th Ave, Santa Cruz, CA 95062 (click here for Google Maps directions).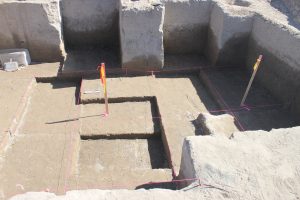 The Sacramento Valley has played a key role in California archaeology over the decades. The Central California Taxonomic System, which has long defined the cultural affiliations and temporal periods of northern California, was principally developed using collections from many of the large mound sites along the rivers and delta. Yet many of these sites were excavated long ago using now-outdated techniques. Also, thanks to a laundry list of destructive factors, many sites no longer exist on the landscape. These limitations greatly restrict modern archaeology's efforts to further refine or even redefine our understanding of the region.
CA-YOL-249 offered a unique opportunity to investigate a previously unidentified, largely undisturbed, Early Middle Period cemetery site in the Sacramento region. Excavations by Archeo-Tec in 2016-2017 utilized modern field techniques and laboratory technologies to interpret the physical record. In advance of a formal project publication, this talk by Project Manager, Juliana Quist, will present an overview of the site using radiocarbon dating, lithic analysis, osteology, and comprehensive mortuary analysis, and this information will provide valuable contributions to the body of archaeological knowledge of the region.
Juliana Quist is a Staff Archaeologist and Geospatial Information Science (GIS) Specialist for Archeo-Tec in Oakland, CA. She holds degrees from the University of New Mexico and North Carolina State University and spent her early years of archaeology in Northern Peru. In the past 15 years, Ms. Quist has worked as a field archaeologist for a broad range of industries and clients, including private, governmental, and academic interests throughout the country; for the last four years, she has been happy to call the Bay Area home.