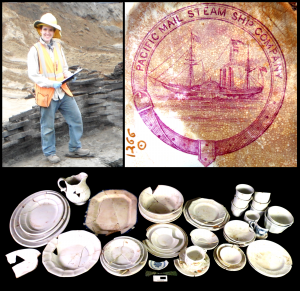 Please join SCAS at 7:30 pm on Thursday, September 17 at the Sesnon House at Cabrillo College for a talk by Kari Lentz titled "Of Washbasins and Whiteware: Socioeconomic Status and Travel Tokens in the South of Market Area of San Francisco."
Kari will be discussing how ceramic analysis reveals information about individual and household behaviors in 19th century San Francisco. The presentation consists of a quantitative study of consumer choice on a neighborhood scale, as well as a qualitative examination of single artifacts on a personal scale. Interpretations derived from both large and small scale analysis are important because they illuminate different facets of past identities.
The first part of Kari's talk examines how households' socioeconomic status was displayed through their table settings and meat consumption. This study focuses on ceramic tableware and faunal remains recovered from 30 households that date to between the late 1860s and 1880. Quantitative techniques, such as ceramic economic-scaling indices, ceramic ware distributions, and proportions of butchered mammalian bone, provide insight into the relationship between a household's status as expressed though the material goods owned by a family, and its status as prescribed in primary documents like the U.S. Census. Ultimately, Kari explains how the inhabitants of South of Market constructed socioeconomic identities based on neighborhood, occupation, and wealth within the stratified city.
The second part of Kari's talk investigates how a single artifact reveals the forgotten story of Robert Bragg, a shipwright who lived near Yerba Buena Cove in the 1870s. This contextual approach utilizes archaeological and historical data to examine the personal significance of a unique ceramic piece that was discovered in Bragg's privy. Although the vessel was once used aboard a Pacific Mail Steamship Company ship, as indicated by the mark on its base, it was deposited in a residential backyard. Kari examines the function of the piece during maritime voyages as well as its potential significance after being collected by a disembarked Bragg. Perhaps this artifact served the shipwright as a keepsake or memento that reminded the immigrant of his time spent aboard ship in his brief period between origin and destination.
Kari Lentz is a staff archaeologist at William Self Associates, Inc., a Bay Area cultural resource management firm. She specializes in historical archaeology, and has conducted excavations in Alameda and San Francisco Counties. Last year, she lectured on archiving, classifying, and curating historic artifact collections at Saint Mary's College in Moraga, California. She is a member of the Society for American Archaeology, the Society for California Archaeology, and the Society for Historical Archaeology. Over the past five years, she has helped author multiple archaeological research reports that address both prehistoric and historical resources. She graduated from the University of California, Santa Cruz with degrees in Anthropology and the History of Art and Visual Culture. She is also an alumnus of the Archaeology Technology Program at Cabrillo College. She has worked in Sierra and Six Rivers National Forests with the U.S. Forest Service, and at the Crow Canyon Archaeological Center in Cortez, Colorado. In 2013, she was a crew chief for the San Miguel Achiutla Archaeological Project in Oaxaca, Mexico. She enjoys illustrating artifacts, reviewing 19th century newspapers, and creating maps in ArcGIS.