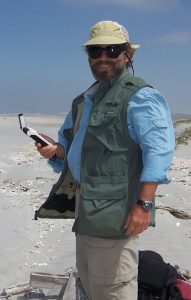 Join SCAS on September 8 for "At the Epicenter of the Timber Industry: The Loma Prieta Mill and Regional Development," a talk by Dr. Marco Meniketti. The talk will be held at 7:30 pm at the Santa Cruz Live Oak Grange Hall at 1900 17th Ave, Santa Cruz, CA 95062 (click here for Google Maps directions).

During his talk, Marco will relate the results of the past two field seasons' work at the site of the Loma Prieta Lumber Mill. Until 1920, this mill was one of the largest and most productive in California. Excavations and archival research are beginning to reveal a complex network of relationships between the various ethnic groups employed at the mill, the interactions between regional industries, and how these intersections shaped the development of the region. Three areas have been archaeologically investigated: the mill itself, and two areas that housed mill workers. In addition to discussing the industrial processes at the mill, evidence of life at the mill will be reviewed.
Dr. Meniketti is professor of Archaeology at San Jose State University. His research examines the dynamics of extractive industries, labor relations, and environmental transformation stemming from historical industrial practices. While most of Dr. Meniketti's work has focused on Caribbean sugar plantations, his current research, in partnership with California State Parks, investigates the industrial landscape and legacy of the historic Loma Prieta Lumber Mill located in the Forest of Nisene Marks State Park in Aptos. Dr. Meniketti holds his doctorate in Historical Archaeology from Michigan State University. He is on the executive board of the Advisory Council for Underwater Archaeology and is a Fellow of the Explorers Club.