Join SCAS for "Field Archaeology Management on Large Ongoing Construction Projects," a talk by Pete Morris, M.A., RPA, of ICF / Jones and Stokes. The talk will be held on May 11, 2017, at 7:30 pm at the Santa Cruz Live Oak Grange Hall at 1900 17th Ave, Santa Cruz, CA 95062 (click here for Google Maps directions).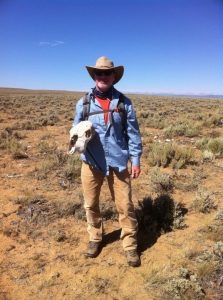 If you are enrolled in or already completed a college anthropology program, you may think to yourself, "what am I going to do with this academic education in the professional working world?" In my first semester of graduate school, with the reality of employment looming closer, that is exactly what I thought. Already armed with the knowledge of working and job searching, as I had gone back to school in my late 20's, I set out to find employment during my first semester in grad school. Although my primary anthropology education was in forensic anthropology and human osteology, I had a secondary focus of archaeology. For someone with a Bachelor's Degree, an archaeology job is a realistic place to start in the working world under the umbrella of an anthropology education. While job searching online, I found a company contact number, and persisted by communicating with someone a couple times, and they hired me. Having worked in professional archaeology for 10 years, the past 3 years have been spent as lead archaeology monitor for a large ongoing construction project. You might think, no big deal, an archaeology monitor. Well, for this project, it is a big deal. There is a lot more to the role of an archaeology monitor on a large construction project than just watching heavy equipment digging holes.
Mr. Pete Morris received a BA in Anthropology, with a Minor in Biology, and a Certificate in Forensic Identification, from CSU Chico in 2006, and a MA Degree in Anthropology from CSU Sacramento in 2013. Mr. Morris's Master's Thesis is titled "Bone Weathering in the Mediterranean Climate of the Northern California Foothills: A Taphonomy Study." His focus in school was human osteology, forensic anthropology, and archaeology. Mr. Morris has worked in Cultural Resources Management archaeology since 2007, mostly in California, but also in Washington, the Wyoming high desert, and in northeastern Nevada. He has worked with the ICF Sacramento office as an archaeologist/osteologist since 2014. His personal interests include photography, hiking, reading, new technology, fitness/exercise science, and human anatomy and kinesiology/biomechanics.