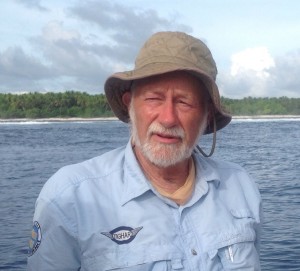 Please join SCAS at 7:30 pm on Thursday, October 15 at Cabrillo College for a talk by Dr. Thomas King titled "Amelia Earhart and Archaeology: Excavating a Mystery."
Note: This talk will NOT take place at the usual location at the Sesnon House. Instead, Dr. King's talk will be held in Room 450 at Cabrillo College.
Please be aware that parking near the location is $4.00. Handicapped parking is free. You may park at the Sesnon House across the street for free, and SCAS will run a shuttle will run from Sesnon House to Parking Lot E from 7:00 to 7:30 pm.
Archaeological surveys and excavations on Nikumaroro, an uninhabited atoll in the south Pacific – part of an interdisciplinary research program carried out by volunteers all over the world – have uncovered tantalizing clues about the 1937 disappearance of aviation pioneers Amelia Earhart and Fred Noonan. Often referred to as one of the 20th century's greatest mysteries, the question of what happened to Earhart and Noonan has been the subject of dozens of books, news articles, TV shows, and on-line arguments. Did she go down at sea? Was she captured by the Japanese? Was she a spy? The answer suggested by archaeological and related studies is more prosaic, but poignant.
Tom King is Senior Archaeologist with The International Group for Historic Aircraft Recovery (TIGHAR), a volunteer organization that researches historic aviation mysteries and promotes aviation-related historic preservation (Visit TIGHAR.org for information). King was awarded a Ph.D. in anthropology by U.C. Riverside in 1976, and is a founding member and past president of the Society for California Archaeology; as a teen-aged amateur in the 1950s, he organized the now-defunct Northwestern California Archaeological Society. Besides his avocational work with TIGHAR, his career has been dominated by cultural resource management, on which he has authored a number of textbooks and tradebooks.