Join SCAS for "Fiction as an Archaeological Research Tool," a talk by Tom King. The talk will be held on March 14, 2019, at 7:30 pm in the Garden Room at the Santa Cruz Museum of Art & History, 705 Front St, Santa Cruz, CA 95060 (click here for Google Maps directions). Please note the location change from our usual venue.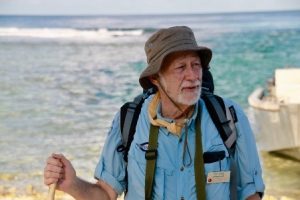 If an archaeologist writes fiction about the subject of his or her research, can this serve a useful purpose, or does it taint the objectivity of the archaeologist's conclusions? This is a question that Tom King faced when he elected to write two novels about the hypothetical fate of pioneer aviators Amelia Earhart and Fred Noonan on Nikumaroro, in the Phoenix Islands. To King, imagining how the data he and his colleagues were finding might reflect what had happened to Earhart and Noonan was a way to make sense of them. To others, doing so was fatal to King's claim to be conducting scholarly research.
Tom King has worked for the last 50+ years in archaeology and historic preservation, in government and in the private sector, in the United States and the Pacific Islands. He is a reformed former U.S. government employee, now self-employed as a cultural heritage and environmental impact assessment consultant based in Silver Spring, Maryland. He works mostly with American Indian tribes in efforts to use historic preservation laws and policies to prevent the destruction of places important to them. From 1997 until 2018, he was the Senior Archaeologist for The International Group for Historic Aircraft Recovery (TIGHAR). In this role, he took part in multiple research visits to Nikumaroro Atoll in Kiribati and elsewhere, testing the hypothesis that Amelia Earhart and Fred Noonan wound up there after their 1937 disappearance. Mr. King has authored and edited textbooks, trade books, and many journal articles about archaeology and historic preservation, plus two novels about the Earhart mystery. He has a PhD in anthropology from the University of California, Riverside.