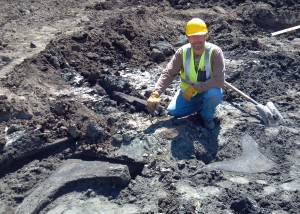 Please join us at 7:30 pm on Thursday, February 19 for a General Meeting talk entitled, "Ugly Duckling and Work Horse: A Mid-19th Century Lighter from San Francisco Bay's Yerba Buena Cove," to be given by SCAS member John Schlagheck, MA, RPA.
Please note that this meeting will NOT be held at the Sesnon House. The meeting will take place in Room 432 at Cabrillo College. Starting at 7:00 p.m. a shuttle will run from the parking lot at the Sesnon House to the meeting room. Parking is free at the Sesnon House, but costs $4 for the rest of Cabrillo College campus.
The Gold Rush was on in 1849. Ships from all over the world were delivering people and cargo in overwhelming quantities to Yerba Buena Cove, the maritime center of early San Francisco. While many people left to search for gold, others, like shopkeepers and bankers, stayed in the growing city and  found a way to make a good living without ever having to head for the mines. One such group was the lightermen, entrepreneurs that moved cargo using flat-bottom barges, or lighters, so called because they "lighten" the loads of ships off shore.
The discovery and recovery, in 2013, of a well preserved and nearly complete Gold Rush Era lighter from the original shore of Yerba Buena Cove is adding to our knowledge of these small utility boats. While it is not a handsome boat by any measure, it is easy to appreciate that a great deal of the material culture shipped to San Francisco during its first brush with international economic importance was landed by a flotilla of perhaps several dozen of these hard working boats.
Using in situ photographs and an intensive study of the lighter in conservation, the author has documented the lighter in a 1/12 scale model. This presentation discusses the lighter's construction and how these boats fit into the transformative period of San Francisco's Gold Rush waterfront. The author also discusses the small scale model as a tool in the broader framework of experimental boat and ship archaeology.
John Schlagheck is a Bay Area archaeologist with a special interest in maritime archaeology and history. A 2010 graduate of the AAUS Science Diving Program at California State University's Moss Landing Marine Laboratory, John holds a BA in geography from Western Michigan University, a degree in Archaeological Technology from Cabrillo College, and an MA in applied anthropology from San Jose State University.
John is currently employed by Holman & Associates, an archaeological consulting firm based in San Francisco. In addition to his Bay Area work, John has done underwater archaeology on the remains the HMS Solebay, an eightieth century British warship off the coast of Nevis, West Indies, and is a member of The Manila Galleon, San Felipe Project in Baja California.