Join SCAS for "Place of the Spirit Woman Spring Site," a talk by Beth Mabie, Osteologist, Archeo-Tec. The talk will be held on September 13, 2018, at 7:30 pm at the Santa Cruz Live Oak Grange Hall at 1900 17th Ave, Santa Cruz, CA 95062 (click here for Google Maps directions).
Santa Teresa Springs in South San Jose was once the convergence of oak woodlands and marsh as well as home to Ohlone Thámien-speaking tribal groups. Construction activities in the early 1970s uncovered skeletal remains and artifacts that were recovered by West Valley College, San Jose State University, and local high school volunteers. The collection (CA-SCL-125) sat for decades before being dusted off and analyzed. Come and learn about 'Arma 'Ayttakiš Rúmmey-tak ("Place of the Spirit Woman Spring Site").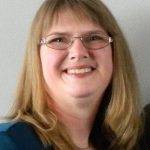 Elisabeth Mabie is a graduate of San Jose State University with a Masters in Applied Anthropology, emphasis in Osteoarchaeology.  She continues to be active in a variety of cultural resource management projects in the San Francisco Bay Area. Elisabeth is also an adjunct professor with De Anza College, teaching several anthropology classes. In her spare time, she volunteers teaching all levels of law enforcement Clandestine Burial Detection and Recovery, as well as teaching the public as a living history re-enactor at National and State Parks. Her interests include genetics, pathology, comparative anatomy, and taphonomy.