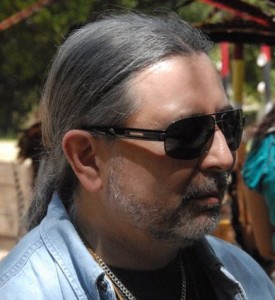 Please join SCAS at 7:30 pm on Thursday, June 18 at the Sesnon House at Cabrillo College for a talk by Gregg Castro titled "Collision, Collusion, or Collaboration? Consultation with Native Communities in the Contemporary World."
Gregg will engage the audience in an interactive dialog on mutual experiences, issues and solutions for the swiftly changing world of Cultural Resource Management, with legal ratifications that are very dynamic and ongoing even as we discuss them. Relying on more than two decades of experience and interaction with Archaeology and CRM, Gregg will endeavor to give a taste of the native perspective and solicit comments from the audience.
Gregg Castro, t'rowt'raahl Salinan and rumsien Ohlone, has been involved in the preservation of his cultural heritage for over two decades, through both his late Mother's rumsien heritage, and his Father's T'rowt'raahl side. He served on the Salinan Nation Tribal Council and was Tribal Chair for a number of years. This organization has become the non-profit, Salinan T'rowt'raahl. He is currently an adviser with the California Indian Storytelling Association. Mr. Castro is a member of the Society for California Archaeology (SCA), and serves as Co-Chair on the SCA's Native American Programs Committee. Gregg previously served on the Archaeology Resources Committee of the State Historical Resources Commission. He is a writer and activist within the California indigenous community focusing on issues regarding cultural preservation, protection, education, and traditional practices.