"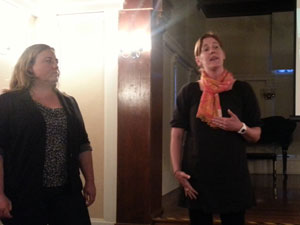 The Archaeology of the Presidio of San Francisco: Past, Present, and Future." Come hear the secrets of the Presidio of San Francisco past and learn how you can be a part of its future. Archaeologist Kari Jones and Curator of Archaeology Liz Clevenger will speak about the archaeology program, the untold stories of centuries of soldiers and their families, and current plans to celebrate this history in a new Heritage Center and Program.
Liz Clevenger is the Curator of Archaeology at the Presidio Trust in San Francisco, California. She oversees the Trust's archaeology laboratory and manages the collection, comprised of a half million objects and records from archaeological sites throughout the park that document the occupation and use of the Presidio by various cultures over the last thousand years. In addition, she leads content research and development for Presidio heritage exhibitions, working with a team of historians, archaeologists, curators, researchers and exhibit specialists.
Kari Jones is an archaeologist with the Presidio Trust in San Francisco, California. She is responsible for designing, executing, and reporting archaeological field investigations as part of the Presidio's elective archaeological research program. She also ensures that the Presidio's 30+ archaeological areas are preserved for the future and interpreted to the public.