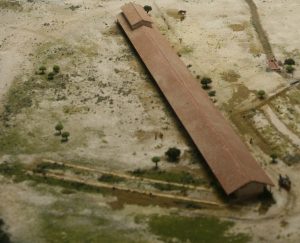 Join SCAS on October 27, 2016, for "The Mysterious 'Angled Adobe' of Mission Santa Cruz," a talk by Glenn Farris. The talk will be held at 7:30 pm at the Santa Cruz Live Oak Grange Hall at 1900 17th Ave, Santa Cruz, CA 95062 (click here for Google Maps directions).
During the course of test excavations under and adjacent to the Santa Cruz Mission Adobe a peculiar set of foundations were noticed that cut underneath the standing structure. Somehow, these had not been noted by the Ground Penetrating Radar testing that had been done in the back yard of the adobe. However, Farris and Larry Felton took the old-fashioned method of using a T-shaped ground probe and a set of pin-flags and set about trying to follow the foundations. The net result was to realize that an enigmatic building had formerly stood on the site that lay at a 45 degree angle to the line of the other known buildings of the mission. Later testing by State Parks and Cabrillo College uncovered more of this structure providing us additional information on its length and width and even noting cross-walls at various points. Although this structure cannot be identified for certain, Mr. Farris will put forth an argument for it having been the mission infirmary.
Glenn Farris's career in archaeology was first stimulated during his teenage years in north Florida where Indian mounds and sites were common. He had a chance to pursue this interest further by working on projects in Israel and Norway. While completing his doctoral studies in Anthropology at UC Davis, Farris was hired by California State Parks and ultimately worked for the department over a 30 year period, retiring in 2008 as a Senior State Parks Archaeologist. Working out of the Archaeology Lab in West Sacramento, Farris had the opportunity to do archaeology in parks throughout the state. He became especially enamored of the California Mission sites, working at Sonoma, Santa Cruz, San Juan Bautista and La Purisima, as well as the contemporary Russian American Company establishment of Fort Ross. In addition to his archaeological work, Farris has spent many hours in various archives seeking out the elusive documentary evidence that shed light on the archaeological finds. Though retired now from State Parks, Farris continues to research and publish in the field of historical archaeology.