Join SCAS for "The Doghole Ports of Big Sur: Using History and Archaeology to Explore a Frontier Maritime Cultural Landscape," a talk by Jason Field, archaeologist for the California Military Department. The talk will be held on December January 10, 2018, at 7:30 pm at the Santa Cruz Live Oak Grange Hall at 1900 17th Ave, Santa Cruz, CA 95062 (click here for Google Maps directions).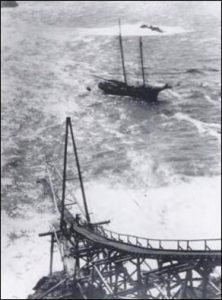 In the late 19th and early 20th centuries, industrial companies entered the rugged frontier mountains of Big Sur and the greater pacific coast in search of lumber, limestone, and other extractable resources. Reliable overland road networks and railroads were nearly nonexistent in these extreme coastal frontiers. The only economically efficient method for importing and exporting machinery or extracted resources was to use schooners and the ocean as a transportation corridor. The doghole port become the vital link between the resource extraction zones, the ocean highway, and the city markets.  These constructions consist of conveyance structures, most often a wooden chute or wire cable, which delivered or received cargo from ocean vessels. Using a maritime cultural landscape perspective, this study explores the history and archaeology of doghole ports to expand understandings of settlement and industry in Big Sur.
Jason Field currently works as an archaeologist for the California Military Department. He received his B.A. in Cultural Anthropology from UC Santa Barbara in 2013 and M.A. in Cultural Resources Management from Sonoma State University in 2017. Previously, he performed archaeological work at several National Forests in California. Having been born and raised in Carmel, he harbors an attachment and commitment to the history and prehistory of the central coast region. His thesis research resulted from an ambition to contribute to understanding and appreciating the area's complex and captivating past.