Join SCAS for "Archaeology Underwater: Exploration and Conservation Beyond the Shores of Time," a talk by John W. Foster, California State Underwater Archaeologist (retired), California State Parks. The talk will be held on November 8, 2018, at 7:30 pm at the Santa Cruz Live Oak Grange Hall at 1900 17th Ave, Santa Cruz, CA 95062 (click here for Google Maps directions).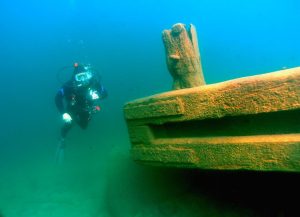 Foster will present a broad overview of underwater archaeology in California and beyond. Using such examples as Manila galleons, Spanish frigates, Steel-hulled passenger steamers, and WWII tankers, he will describe how archaeology is done in the underwater environment and why it's important to understand and conserve maritime cultural resources. Underwater sites can produce amazing preservation conditions and important heritage information. It's been said that the aqueous environment contains the greatest repository of human cultural heritage on earth. New technological advances are making these sites accessible, so what will be the future of the underwater past?
John Foster is an archaeologist and underwater specialist who retired from California State Parks after a 35 year career. He holds degrees in anthropology with an archaeology specialty from UCLA and CSU Long Beach. He served as the California State Underwater Archaeologist and has logged over 600 dives in California, Baja California, Dominican Republic, and Florida. His research interests include submerged prehistory as well as shipwrecks and the protection of heritage resources within underwater parks. He served as Adjunct Faculty at Indiana University for 20 years, teaching underwater archaeology and park management in the Caribbean. John is the recipient of the Harrington Award from the Society for California Archaeology and the Olmsted Award from State Parks for his work in conservation.