Join us as we celebrate California archaeology month (October) with our Third Annual SCAS Film Fest! This year, we will be showing two films by two California archaeologists: Kimberly Wooten (California Department of Transportation) will be discussing "There and Back Again: A Tale of Community, Archaeology, Single-Use Plastic, and the High Seas" and Dr. Charlotte Sunseri (San Jose State University) will be discussing "Stakeholders' Values for Archaeology and Heritage in Santa Clara County."
DATE: Thursday, October 14, 2021
TIME: 7:00 – 8:00-ish PM (Pacific)**RSVP by 6:00 PM on October 14, 2021** RESERVATION ONLY & SPACE LIMITED, WITH PREFERENCE TO CURRENT SCAS MEMBERS. PLEASE NOTE: This meeting will take place online using Zoom.
PLEASE CLICK BELOW FOR THE REGISTRATION FORM:
https://docs.google.com/forms/d/e/1FAIpQLSeUROKjsVLeo0fHstFeEctZtHzUzp_GZZCTY0EKeOuBXn8EYw/viewform
Once you have registered for the event using this form, a link and instructions for joining the virtual event via Zoom will be sent to that email address 30 minutes before the event starts.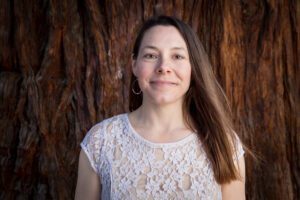 Dr. Charlotte Sunseri (she/her) is Associate Chair and Associate Professor of Anthropology at San José State University. She received a PhD from UC Santa Cruz. Dr. Sunseri is author of Alliance Rises in the West: Labor, Race, and Solidarity in Industrial California (University of Nebraska Press, 2020) and has expertise in zooarchaeological and GIS-based spatial analyses. Her specialties include California hunter-gather archaeology and historical archaeology of mining communities of the late nineteenth and twentieth centuries. Most broadly, Dr. Suneri's archaeological and historical research explores social inequality and identity, industry and labor, material evaluation, cultural landscapes, and economic anthropology.
"Stakeholders' Values for Archaeology and Heritage in Silicon Valley" (film)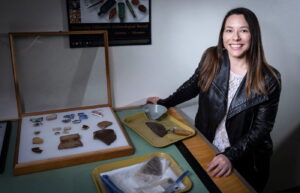 A short film explores perspectives of descendant communities about the value of heritage and archaeology to their lives, and a productive vision of collaboration. The film presents views from academic and CRM archaeologists, and descendant community leaders such as Ohlone tribal members, and former residents and descendants from the Japantown neighborhood, Chinatown neighborhoods, Five Wounds Portuguese neighborhood, as well as Bay Area developers and contractors whose projects impact traditional spaces and archaeological sites. The interviews focus on community values and identities, interests in the past, ideal collaborations among stakeholders, and what aspects of archaeological practice influence community member's lives today. The film confronts shifts in American archaeology to emphasize a more collaborative relationship between scientists uncovering the past and those communities whose heritage are uncovered. These collaborations try to build a more positive relationship among stakeholders and promote inclusivity in the development of research agendas. Archaeological study of shared heritage is not backward looking; rather, heritage is a living concern that can have great import to living descendant communities. Understanding the value of archaeology to stakeholders, and the points of intersection between interests of all stakeholders, might point our discipline in clearer pathways towards positive collaboration.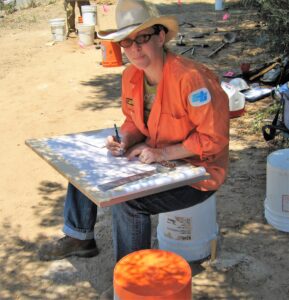 Kimberly J. Wooten (she/her) is an Archaeologist at the California Department of Transportation's Cultural Studies Office. Kimberly Wooten has worked as an archaeologist since 1988, in California, British Columbia, Canada, and Greece. Since 1997 she has worked for Caltrans, focusing on Historical Archaeology, and more recently, Contemporary Archaeology with an eye towards archaeology as a platform to raise awareness and promote archaeological-based solutions for social and environmental issues. Ms. Wooten has a BA in archaeology from the University of California, Santa Barbara.
"There and Back Again: A Tale of Community, Archaeology, Single-Use Plastic, and the High Seas" (film)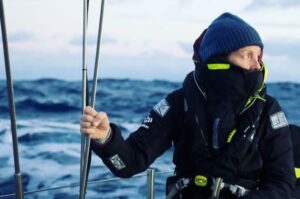 More and more, archaeologists are seeing single-use plastics and plastic pollution as an environmental crisis that can be tackled with archaeological methods. Moving forward from the 1950s, with its explosion of plastic products, and merging with today's layer of disposable blue masks, plastic is seen as the archaeological hallmark for the Anthropocene. The focus on plastic combines historical archaeology methods, material culture studies, the field of contemporary archaeology, with the archaeology of activism. Centered on two weeks sailing the North Atlantic as crew aboard eXXpedition's research vessel S.V. TravelEdge – surviving 70-knot winds and 30-foot swells – while sampling for ocean plastics, this is a tale with its roots in a small, rural community. Ms. Wooten's voyage was the culmination of a year of preparation, including community outreach, education, and fundraising. It is an exploration of archaeology and environmentalism at the local level, to the global plastic crisis, and back again to the local, where eXXpedition commitments of public outreach, plastic awareness, and storytelling continue. (Documentary film clips were provided by Marcia Cooney Reinauer of Nomad Mnemonics.)