Join SCAS for a presentation by Dr. Albert Gonzalez (CSU East Bay) on "Mexican Whiskey: Industrial Distilling and Inter-Ethnic Dynamics in Old New Mexico".
DATE: Thursday, November 11, 2021
TIME: 7:00 – 8:00 PM (Pacific)**RSVP by 6:00 PM on November 11, 2021**
RESERVATION ONLY & SPACE LIMITED, WITH PREFERENCE TO CURRENT SCAS MEMBERS. PLEASE NOTE: This meeting will take place online using Zoom.
PLEASE CLICK BELOW FOR THE REGISTRATION FORM: https://docs.google.com/forms/d/e/1FAIpQLSdw8RFca_OS0-9mGx2H4Zsbl7fRbCqOJ5VyNUOKi6dCPSTStg/viewform
Once you have registered for the event using the above form, a link and instructions for joining the virtual event via Zoom will be sent to that email address 30 minutes before the event starts. If you don't have Zoom on your computer, or don't know how to use Zoom, please go here for helpful instructions: https://support.zoom.us/hc/en-us/articles/201362193-How-Do-I-Join-A-Meeting-
In January of 1847, only six months after the conquest of the Mexican far north by the United States, the Hispanos and Indians of northern New Mexico's Taos Valley rose together in rebellion, killing the American-appointed governor and destroying a substantial adobe distillery complex known as Turley's Mill. Dr. Gonzalez's presentation centers on the ruin of Turley's Mill, discussing the cultural factors that may have led to its destruction. Related historiography reflects bewilderment as to the distillery's end due to the reputation of its owner, Simeon Turley, for fair dealing. Some historians have suggested that the coalition that destroyed Turley's Mill was a mindless mob bent on pillage. The insurgents left behind materials of value in considerable volume, however, suggesting that looting was not a driving factor. Dr. Gonzalez's research project, -funded by the National Science Foundation, addresses the question of insurgent motivation, treating the site as an outpost of the ever-expanding American industrial frontier. His presentation situates northern New Mexico's marginalized nineteenth-century populations in the context of the industrial-era world system using a combination of archaeological, experimental, and historical methods. His presentation also connects the construction of Turley's Mill to Santa Cruz history, as Turley's foreman was Job Dye, who left Taos for Santa Cruz before the rebellion, building his own distillery in contemporary Felton in 1835.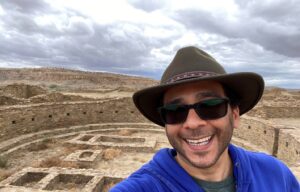 Albert Gonzalez is an Associate Professor of Anthropology at Cal State East Bay (CSUEB) in Hayward, California, where he has taught since 2013. His research uses the methods of historical and experimental archaeology alongside those of material culture studies to address questions of importance to indigenous and Latinx descendant populations and stakeholders in California, New Mexico, and Florida. Dr. Gonzalez directs the C.E. Smith Museum of Anthropology and the Pacific Earthen Architecture Research Laboratory (PEARL) at CSUEB, where he trains students in museum and laboratory methods as they relate to the interpretation of indigenous and Latinx documents and material culture. He is married to an elementary school teacher, with whom he raises two beautiful and lively children. He is an enormous Star Wars nerd and Giants baseball fan and is increasingly a connoisseur of bad puns and even worse dad jokes.