Join SCAS for a presentation by Linda Yamane, Ohlone artist and scholar, on "Breathing Life Into the Past & Keeping it Alive for the Future".
DATE: Thursday, September 9, 2021
TIME: 7:00 – 8:00 PM (Pacific)**RSVP by 6:00 PM on September 9, 2021** RESERVATION ONLY & SPACE LIMITED, WITH PREFERENCE TO CURRENT SCAS MEMBERS. PLEASE NOTE: This meeting will take place online using Zoom.
PLEASE CLICK BELOW FOR THE REGISTRATION FORM: https://docs.google.com/forms/d/e/1FAIpQLSfhE_AsY3yG0DPuZG47uwKwZkrS0FeuTPZWsgZ8aKzvj_hDCg/viewform
Once you have registered for the event using this form, a link and instructions for joining the virtual event via Zoom will be sent to that email address 30 minutes before the event starts. If you don't have Zoom on your computer, or don't know how to use Zoom, please go here for helpful instructions: https://support.zoom.us/hc/en-us/articles/201362193-How-Do-I-Join-A-Meeting-
For more than thirty years, Linda Yamane has been piecing together bits and pieces of the rich but fragmented traditions of her Rumsen Ohlone ancestors. From language to basketry, songs, stories, boat building, and an array of other ancient technologies, she has brought back into the world evidence of the resourcefulness and creativity of the San Francisco and Monterey Bay areas' First Peoples. She has done this by tapping into the ethnographic, linguistic, and archaeological records and then transforming that information into spoken language and tangible objects that can be seen and held, appreciated, and learned from. She will share some of her creations and the experiences that led to them, hoping to give back to the archaeological community a taste of the joy she has found through lots of hard work and precious clues from the past.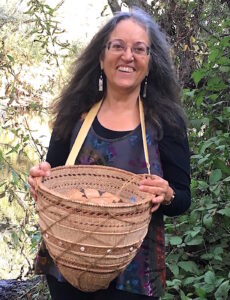 Linda Yamane is an Ohlone artist and tribal scholar who lives in the Monterey area, the homeland of her Rumsen Ohlone ancestors. She is most known for bringing back the lost art of Ohlone basketmaking, and her baskets and other artworks can be seen at numerous Bay Area interpretive exhibits – including Land's End, the San Francisco Presidio's Officers Club, the San Francisco Presidio Visitor Center, the Oakland Museum of California, the Sanchez Adobe Interpretive Center in Pacifica, and Santa Clara University's de Saisset Museum. In addition to her art, Linda is the author of Weaving a California Tradition – A Native American Basketmaker; she has published two books of traditional Ohlone stories (How Humingbird Got Fire and The Snake That Lived in the Santa Cruz Mountains); she co-authored In Full View – Three Ways of Seeing California Plants; she edited the volume A Gathering of Voices – The Native Peoples of the Central California Coast; and she contributed to the anthologies The Way We Lived – California Indian Stories, Songs & Reminiscences; Seaweed, Salmon & Manzanita Cider – A California Indian Feast; The Sweet Breathing of Plants – Women Writing on the Green World; and First Coastal Californians.